FUNERAL and BURIAL FUNDRAISER
The fundraiser for covering the deficit of Sandy's funeral and burial is managed by the Philoptochos, the organization that Sandy has served with passion for many years. As Sandy did in life, please give generously as we still have a long way to go.
Drop off or mail a check made out to Philoptochos with Sandy's name in the memo line to: PO Box 5808, Carmel by the Sea, CA 93921
ORTHODOXY 101/ (RE)CATECHISM CLASS
The Catechism/ Orthodoxy 101 Class will meet on Sunday, August 18 for discussing the readings and podcasts under #5 of the curriculum, The Scriptures (II): Bible and Holy Tradition. The newly revised curriculum including audio resources can be found at our web site under Adult Education.

Our visitors and newcomers are encouraged to attend and participate. The class is also offered as RECATECHISM to all for their own benefit, for connecting with our visitors and catechumens and for strengthening our community. No asked questions are silly. Come, ask, learn, change and be transformed!
SUNDAY SCHOOL
The Sunday School class will meet this Sunday after the Divine Liturgy and lunch, older kids only. The preschool will resume in September.

BOOK FORUM: THE WAY OF A PILGRIM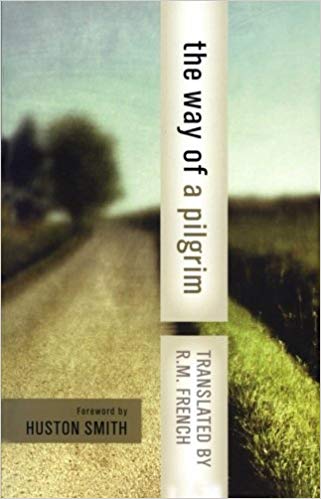 Join us for reading and discussing the very popular book The Way of a Pilgrim. The book can be found at our bookstore or online here. Our next meeting will be on Wednesday, August 21, from 11 a.m. in Saint Nektarios Chapel. Please prepare chapter 2.

This classic of world spiritual literature is the firsthand account of a pilgrim's journey as he endeavors to live out Saint Paul's instruction to "pray without ceasing." The narrator, an unnamed nineteenth-century peasant, sets out on his pilgrimage with nothing but a Bible, a rosary, and some dried bread. As he walks, he recites the Jesus prayer ("Lord Jesus Christ, have mercy on me")—a prayer that is said to quiet anxiety and fill the heart with love for all creation. With this prayer constantly on his lips, the pilgrim undergoes a profound spiritual education. Learn more about the book and its history here.

CONGREGATIONAL CHANTING WORKSHOP
The Congregational Chanting Workshop will meet on Wednesday, August 21, from 10 am (before the Book Forum). Open to all.

SAINT JOHN'S GREEK FESTIVAL
In another two weeks, we will be immersed in our annual Monterey Bay Greek Festival. If you have not yet made plans to volunteer, please do so now. Help is needed in the following areas:
Set up on Friday includes marking booths locations, and laying down tarps. In the afternoon, tables and chairs are set up, vendors arrive and booths must be stocked.

Throughout the festival, volunteers are needed working at the booths, or behind the scene with baking, cleaning, fetching

As the festival concludes on Monday, the cleanup begins, with boxing, packing, sweeping, until there is no trace of the festival at all when the sun sets.
Please consider when and where you have time to participate and plan to do so with generosity and gratitude. You can sign up, or show up and ask where you can fill in.. We need you.
Lastly, please spread the word! Invite everyone you encounter to visit us at the festival on Custom House Plaza.

UPDATE: FESTIVAL COOKING
The final week is set up for cooking:
Monday, August 26 & 27 - Chicken Kapama
Tuesday, August 27 - Rice
Those who wish to volunteer, or have any questions about donating ingredients, please call Voula Saites at 831-384-3893.
Cooking begins at 9:30am at the Salinas Church on 326 Park St. If you are not able to make it during the day, your help in the evening prepping and cleaning up for the next day would be a great help.
PHILOPTOCHOS NEWS
As you know summer finds the board in summer session, meaning we don't meet regularly. However we are always available if the need arises, if you find yourself or someone else in need of Philoptochos please contact any board member or reply to this email: alex@alexandramouzas.com.
Announcements:
Philoptochos will be selling their Tsourekia (traditional Feast sweet bread) during the church festival. As you know they're very popular, if you would like to place multiple orders, please reply to this email.
Please put Saturday, October 19th on your calendar for the annual Fall General Meeting. This year as the Saint John the Baptist community continues to grow we shall "Celebrate the Cultures of Saint John the Baptist". We invite each of you to wear a native costume, share a native dish, and if you have music from your country please bring it with you…we'd love to learn a dance. Celebrating our Fabric of Cultures, Saturday October 19th. More details to follow.
BEHEADING OF SAINT JOHN THE BAPTIST VIGIL
We will be observing the feast of the Beheading of Saint John the Baptist (August 29) with the vigil on the eve, Wednesday, August 28, from 6pm. The day of the beheading is always a day of strict fast.
SERVING THESE SUNDAYS
Serving this Sunday in church and at the fellowship hour following Liturgy:
August 18
Parish Council member: Euthimios Saites
Greeter: Carrie Wilemon
Fellowship: Orange Team – Every 3rd Sunday each month
August 25
Parish Council member: Jacob Voyce
Greeter: Carrie Voyce
Fellowship: Green Team – Every 4th Sunday each month
CONFESSIONS AT SAINT JOHN'S
Father Ion is available to hear confessions after services and also by appointment at other times. If you need to do confession, please contact Father Ion ahead of time.
FATHER JOHN BERRIS GOLF TOURNAMENT in SAN JOSE
From our sister church in San Jose: The 31st annual Fr. Berris Golf Classic will be held Monday, September 16th at Silver Creek Valley Country Club in San Jose. Father Berris Golf Classic, Inc. is a 501(c)(3) charitable organization benefiting seminarians from our diocese enrolled in the Masters of Divinity Program at Holy Cross Seminary as well as our new mission- projects to benefit the youth of our St. Nicholas Church. Over the last 30 years $233,000 has been awarded in scholarships to seminarians and over $140,000 to the St. Nicholas Building Fund, all thanks to our sponsors, donors, golfers and volunteers. Please join us for a fun day of golf and fellowship and/or consider being a sponsor, gift donor or volunteer at the tournament. For more information visit www.FrBerrisGolf.org or call Jim Chiochios at 408.741.5534 or email FrBerrisGolf@comcast.net. Thank you for your support!
ADULT RESORT CAMP - ST. NICHOLAS RANCH
Adult Resort Camp is at St. Nicholas Ranch, Dunlap, from Monday to Friday, September 16-20th. Lodging and meals is included in the cost. For reservations call 559-338-2103 or for more information, call Fr. Jim Pappas at 559-233-0397.
Celebrate the 40th Anniversary of Saint Nicholas Ranch and Retreat Center
Saint Nicholas Ranch and Retreat Center: We will celebrate 40 years of this remarkable ministry
A dinner event will be held on Saturday, October 26, 2019 at the Ascension Greek Orthodox Cathedral in Oakland, CA. This gathering will celebrate the many accomplishments of the Ranch, especially recognizing those whose vision brought forth this wonderful ministry 40 years ago, as well as provide us with the opportunity to look to the next 40 years and beyond so that the Ranch may continue to grow and flourish for the spiritual, educational and cultural edification of our faithful.
Details on tickets and sponsorships will be forthcoming soon. For more information, please contact the Metropolis Office at 415-753-3075. The Ranch is preparing a video to chronicle the past 40 years, and welcomes the submission of high-resolution pictures or videos. These may be submitted electronically to Michael Pappas no later than August 30, 2019.