NATIVITY FAST STARTED NOVEMBER 15
Let us observe a fast acceptable and pleasing to the Lord.
True fasting is to put away all evil,
To control the tongue, to forbear from anger,
To abstain from lust, slander, falsehood and perjury.
If we renounce these things, then is our fasting true and acceptable to God.
Let us keep the Fast not only by refraining from food,
But by becoming strangers to all the bodily passions.

(From a Lenten Vespers Service)
OPEN CHURCH DURING ALL SAINTS CRAFT FAIRE
All Saints Craft Faire is Saturday, November 17 Seccombe Hall 9:00-4:00pm. This is a very well attended event. Once again we will have a "booth" at the faire to direct visitors to Saint John's Open House that will take place in Saint Nektarios Chapel. Won't you support the Saint John's booth, the Open House and visit all the other craft booths offered by All Saints?
FALL PARISH ASSEMBLY
Our Fall Parish Assembly Meeting scheduled for Sunday, November 18, following Divine Liturgy. We encourage you to attend this important meeting of all parishioners to learn all the news. You won't want to miss it! Elections for Parish Council members will be held at this time as well.
PARISH COUNCIL ELECTIONS
Our thanks to the Parish Council that served this year. They have done a wonderful job and kept us growing in greater love for Christ. As you know, Parish Council members serve for 2-year terms. For continuity, each year we have an election for half the council.
Those council members elected for 2018-2019 are:
- Corrine Balcom
- Brian Balcom
- Euthimios Saites
- Jacob Voyce

Terms will be expiring at end of 2018 for the following council members:
- John Ehab
- Christina Pressas
- Fotis Papoulias
- Larry Brown (relocated in June)

This Sunday, we will conduct an election for the vacant positions. Running for election to 2019-2020 are:
- Christina Pressas

Elections are open for all church members in good standing. We invite you to attend liturgy, vote, and be present for the Parish Assembly also held this Sunday.
PHILOPTOCHOS BAKE SALE
The Ladies of Philoptochos are baking delicious cookies and pastries! Perfect for your Holiday tables and gift giving. Be sure to visit us at Star Market in Salinas Friday November 16th and Saturday November 17th 10 AM until 4PM. Sunday November 18th parishioners are invited to pick up their orders after Divine Liturgy. Accepting pre orders now. Please contact Sandy Sanders 831-229-1937 or Alexandra Mouzas alex@alexandramouzas.com 619-518-2755
CONGREGATIONAL CHANTING PRACTICE - NEW SATURDAY SCHEDULE
"Praise the LORD! How good it is to sing praises to our God; for he is gracious, and a song of praise is fitting." (Psa 147:1 NRS) We encourage congregational chanting at our services. In an effort to make it more accessible, we are beginning to introduce new music to our services following the new Divine Liturgy Hymnal book. This will be a gradual transition for which we will prepare with practice sessions on Tuesdays (11:30am, before noon prayer and Book Forum) and on Saturdays (5:45pm, AFTER Vespers) starting October 27. Always check the schedule online. Music and audio recordings for private practicing can be found at our web site http://stjohn-monterey.org/about-us/chanting-at-saint-johns Join the choir and sing praises to our God!
NEW: GIVE HIM FIVE!
This Sunday we continue our series of five-minute presentations to take place right after the Liturgy: Give Him Five! brought to us by the Stewardship Ministry, they are part of the FILL the GAP! campaign, pointing to the foundation of our life as stewards of God's creation and Church. The topics are as follows:
1. Prayers
2. Alms giving- 11/11
3. Fasting - 11/18, this Sunday
4. Church attendance - 11/25
5. Mysteries - 12/2
So, give to the Lord through these five ways and receive from Him in many more and much more!
SUNDAY SCHOOL
Because of the Parish Assembly this Sunday, only the Preschool will be in session following lunch.

ORTHODOXY 301 LECTURES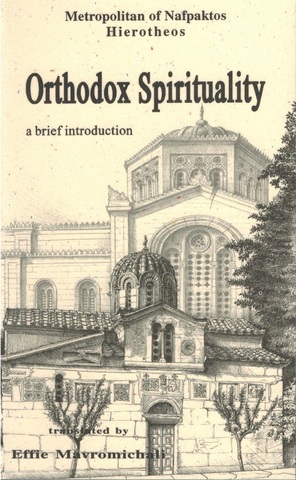 Orthodoxy 301 is a new class to complement our regular catechism training. It is structured as a short lecture given by various people from our community followed by discussion. The topic of Orthodox Spirituality has become more relevant in a world where many consider themselves "spiritual but not religious", finding refuge away from the Church. Open to all. We'll use material from "Orthodox Spirituality - a Brief Introduction" by Metropolitan Hierotheos of Nafpaktos. The book is available at our bookstore. The class will meet at noon every Sunday in Saint Nektarios Chapel.

Remaining Lectures on Orthodox Spirituality
6. Sacraments and Asceticism (11/25 by Kevin Wheeler)




7. Neptic and Social Theology (12/2)




8. Monasticism and Married Life (12/9)
NEW: TUESDAY FORUM TO BEGIN NEW BOOK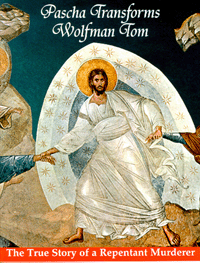 On Tuesday, November 20, we will begin and end a short book: Pascha Transforms Wolfman Tom - The True Story of a Repentant Murderer. Check the bookstore or see Athanasios for your own copy. The book is NOT available on Amazon.com. Chanting class from 11:30am, 6th Hour Service from 12 noon, Book Forum from 12:30pm. Bring your own lunch.
ADVENT BOOK FORUM FOR DECEMBER
Join us for the Book Forum in December to read and discuss a most beneficial book by Saint Nikodemos of Mount Athos about Holy Communion. It is in line with our previous readings - based on a scriptural and patristic foundation - and it is meant to be part of our fasting/ ascetic labor of preparation for the Nativity of our Lord. The reading will change/ improve our understanding of participating in the Holy Eucharist and even of... the Lord's Prayer as part of the same mystery.
The book has three parts plus a nice Preface, a Prologue and two Appendices that are optional. The schedule is as follows:

December 4 - Part One: Explanation of the Lord's Prayer
December 11 - Part Two: Concerning Frequent Communion
December 18 - Part 3: Objections and Clarifications
Please note that the book can be found in both printed and electronic format. Please let Athanasios know your preference so he can order the books ASAP. The printed version is more suitable for prayerful reading and study.

NOVEMBER LITURGY IN SALINAS
The Orthros and Liturgy for the Entrance of the Theotokos will take place in Salinas on November 21.
THANKSGIVING DAY LITURGY
Give thanks to God on Thanksgiving day! For the Orthodox Christians the supreme thanksgiving act is the Holy Eucharist. Thanksgiving Thursday: Orthros from 8:30am followed by Divine Liturgy.
YOUNG ADULT MINISTRY
Our high school and college students and their friends are invited to join the Young Adult Group for Monday evening activities from 6:30pm. The theme for this coming school year is A Life of Offering. The month of November will orient us towards Offering Our Conflicts to God. Please contact Father Ion for details.
SERVING THESE SUNDAYS
Serving this Sunday in church and at the fellowship hour following Liturgy:
November 18
Parish Council: Brian Balcom
Fellowship: Team Orange – always 3rd Sunday of the month.
November 25
Parish Council: Corkey Balcom
Welcoming: Mary Kanalakis
Fellowship: Team Green – always 4th Sunday of the month.
CONFESSIONS AT SAINT JOHN'S
Father Ion is available to hear confessions after services and also by appointment at other times. If you need to do confession, please contact Father Ion ahead of time.
PHILOPTOCHOS NEWS
Many of you may already have learned about a tragic accident which has put the life of this young boy in great danger. Demitris suffered severe injuries and burns after being electrocuted and is in the ICU. Dimitris has already undergone two surgeries, one a skin graft, and the other on his skull to remove infected bone tissue. Please keep Dimitris and his whole family in your prayers for a speedy and full recovery. In the meantime, Philoptochos is reaching out to the family during their time of need. We are collecting gas or grocery cards, or cash to purchase these gift cards. If you would like to help with this effort please contact Alexandra at 619-518-2755, alex@alexandramouzas.com.

Upcoming Philoptochos Events:
Philoptochos Bake Sale Friday, November 16th & Saturday, November 17th at Star Market,

Community Bake Sale Sunday, November 18th

Saturday, December 1st Light the Path in Belmont

Sunday, December 2nd Philoptochos Christmas Luncheon at Epsilon

Sunday, December 9th Community Christmas gathering for Salvation Army Angel Tree
CLEAN-UP DAYS WITH ALL SAINTS CHURCH
Our brethren from All Saints Church will gather for cleaning once a month as listed below. We were invited to participate and take care of the space that we use and offer support in other areas as needed. Let us join the effort with gratitude and joy on these following the final Saturday from 10:30am: December 8.
LIGHT THE PATH LUNCHEON - SUPPORT OUR SEMINARIANS!
His Eminence Metropolitan Gerasimos and the Metropolis of San Francisco Philoptochos joyfully invite you to attend Light the Path, a Christmas Luncheon in support of the BISHOP ANTHONY PHILOPTOCHOS STUDENT AID ENDOWMENT FUND.
Saturday, December 1, 2018 from 11am
Greek Orthodox Church of the Holy Cross
900 Alameda De Las Pulgas
Belmont, California
$75 per person
For reservations contact Alexandra: alex@alexandramouzas.com
"The Bishop Anthony Philoptochos Student Aid Endowment Fund started as a small seed, but with faith, nurturing and perseverance, we have been able to secure the future of our faith and culture in this Metropolis. Hundreds of students have received considerable support and are now serving the Greek Orthodox Church as priests, educators, pastoral assistants and youth directors. Since its inception, the Metropolis Philoptochos has been the guardian angel of this important effort. Your support of this event will help them to further expand their efforts and will create a lasting legacy for our future." His Eminence Metropolitan Gerasimos
YOUNG ADULT WINTER RETREAT
SAVE THE DATE for the 14th Annual Metropolis Young Adult Winter Retreat in Lake Tahoe, January 18-21, 2019! Join us for this beautiful retreat, located on a private beach on the shore of Lake Tahoe with spectacular views, incredible food, and awesome accommodations! Not to mention, we have a weekend packed full of fun, faith, and fellowship with Orthodox young adults from all over the West Coast! This retreat will sell out with a max capacity of 60, so make sure to register beginning November 1, 2018!
DATE: January 18-21, 2019
LOCATION: Galilee Episcopal Camp & Retreat Center, South Lake Tahoe
ARRIVAL TIME: Friday beginning at 5:30pm
DEPARTURE TIME: Monday 9:30am
SPEAKER/THEME: Coming soon!
AGES: 18-30's
ONLINE REGISTRATION Opens: November 1, 2018 at www.gosfyouth.org
FACEBOOK PAGE: https://www.facebook.com/events/1943883609026865/
RETREAT VIDEO from 2016: https://vimeo.com/153430756
COST: $260 includes 3 nights lodging (Fri, Sat, and Sun) and all meals except lunch Saturday & Sunday since we will be out exploring Lake Tahoe both afternoons. Price does not include lift ticket.
PILGRIMAGE TO ST. ANTHONY'S MONASTERY - ARIZONA
A Pilgrimage to St. Anthony's Monastery in Florence, AZ is scheduled for the weekend of December 8 – 10. Visit the grounds, see the churches and chapels or you could have confession with Elder Paisios or one of the other priestmonks, upon request. If you are interested, please call Despina Anagnosotu at 520-457-0000, who will be making accommodations to/from the airport/monastery along with reserving rooms at the monastery for all the pilgrims. Flights are reserved by each individual but you may contact Despina to obtain the specific flights.

SAINT NICHOLAS CHURCH GALA
Join the 73rd Anniversary of Saint Nicholas Church in San Jose! Save the date:
Sunday, December 9, 2018, Marriott Hotel, 301 South Market, San Jose
No Host Cocktails – 5:30 pm, Dinner - 6:30 pm
To reserve your seats call the church office at 408.246.2770. Tickets for adults are $100, young adults $50, and children $35.